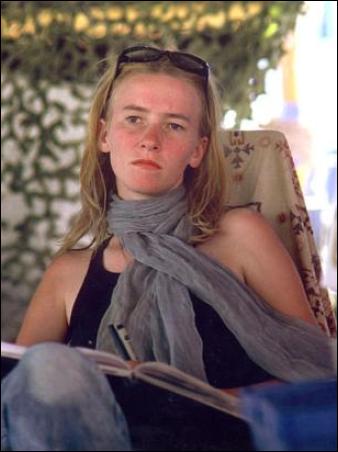 Rachel Corrie.
Killed on March 16, 2003 when she was crushed by a bulldozer on the Gaza Strip.
http://www.rachelcorrie.org/
Rachel Corrie, tuée le 16 mars 2003 par un bulldozer israélien, dans la bande de Gaza, Palestine Occupée.
Tristan Anderson
, 38, had three brain operations after being shot in the head with a high-velocity tear gas canister by Israeli security forces on 13 March 2009.
Anderson, who survived with major brain damage, was in the West Bank village of Nilin, protesting with Palestinian farmers against the construction of Israel's "separation wall".
Tristan Anderson, 38 ans. Il a subi 3 opérations du cerveau après que des soldats israéliens ont lancé une grenade lacrymogène sur sa tête. Anderson, qui a survécu, souffre de graves séquelles au cerveau (lobe frontal endommagé). Il manifestait pacifiquement avec des paysans palestiniens contre la construction du mur de séparation à Nilin, en Cisjordanie.
James Miller
,a Welsh cameraman, producer, and director, and recipient of numerous awards, including five Emmy Awards. Killed in 2003, he was 34. He was in Rafah while making a documentary for a US cable channel. An autopsy confirmed he was almost certainly killed by an Israeli soldier, despite the army's assertions to the contrary. Video evidence clearly showed Miller and his team carrying white flags and shouting to Israeli soldiers that they were British journalists.
James Miller est un caméraman, producteur et réalisateur gallois. Il a gagné plusieurs récompenses pour son travail (dont 5 Emmy Awards). Il a été assassiné en 2003 alors qu'il avait 34 ans. James Miller effectuait un documentaire à Rafah pour une chaîne cablée américaine. Une autopsie a confirmé qu'il a été tué par un soldat israélien, malgré les affirmations israéliennes. Les preuves filmées montrent clairement que James Miller et son équipe portaient des drapeaux blancs et criaient aux soldats israéliens qu'ils étaient des journalistes britanniques.
Tom Hurndall
was in a coma for nine months after being shot in the head by an Israeli sniper.
He died January 13, 2004.
http://www.tomhurndall.co.uk/
Tom Hurndall est resté 9 mois dans le coma après qu'un sniper israélien a visé sa tête. Il est mort le 13 janvier 2004.
Brian Avery
(born 1979) is an American who, while volunteering for the International Solidarity Movement (ISM) in the West Bank town of Jenin, was shot in the face by Israeli Defense Forces on April 5, 2003. The shooting, which was unprovoked and did not occur in the context of any apparent hostilities, caused Avery to suffer permanent disfigurement.
Brian Avery et un citoyen américain. Alors qu'il effectuait une mission civile avec l'International Solidarity Movement en Cisjordanie, à Jénine, il a été la cible de plusieurs tirs dans le visage par des soldats israéliens en patrouille (le 5 avril 2003). Les tirs, qui ne résultaient d'aucune provocation et qui ne se sont pas produits dans un contexte d'hostilités, ont défiguré le visage de Brian Avery, qui a subi de nombreuses et coûteuses opérations.
May 31, 2010. US citizen
E

mily Henochowicz
was shot directly in the face with a tear gas canister as she non-violently demonstrated against the Flotilla massacre. She lost her left eye.
Emily Henochowicz est une citoyenne américaine. Alors qu'elle manifestait de manière non-violente en solidarité avec "la flotille de la liberté", des soldats israéliens lui ont envoyé une grenade lacrymogène directement dans le visage. Elle a perdu son oeil gauche.
Click
here
fore more.
Gaza: The Killing Zone